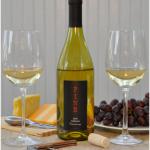 We have just released our first vintages of "FINE" wine. A 2010 Chardonnay and 2010 Cabernet Sauvignon
Our FINE Chardonnay is rich and balanced with intense flavors of pineapple, mango, citrus and honeysuckle. It's a chardonnay with wonderful roundness and focused fruit. Soft on the palate with hints of vanilla and butterscotch that leaves a crisp lingering finish.
Our FINE Cabernet is a velvety wine with bright, refreshing fruit and supple flavors of blueberry, cherry and hints of chocolate. All tied together with a creamy French vanilla layer that has round tannins and is soft on the palate. This is the wine on your mind anytime you're thinking of a great and easily enjoyable FINE cabernet.
Look for it at a "FINE" wine retailer near you.